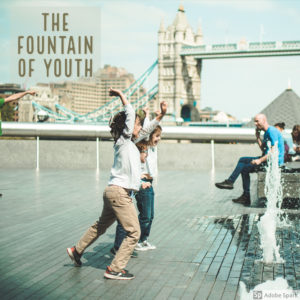 Everything you need to know you learned in Kindergarten. It's such a simple, yet profound statement, one that reflects my appreciation for the pedagogical practices that are prevalent in early childhood classrooms. When you walk into a Kindergarten classroom, there is something uniquely captivating about it. Learning is social and visible, active and fun. The sounds of singing and tinkering are daily occurrences. Content is not broadcasted. Rather, meaning is constructed from engaging in authentic experiences. Sure, there are letters and numbers, but there are also life lessons, like sharing and empathy. It's not uncommon to find Kindergarteners skipping into their classrooms, eager to join the community of learners. Why can't school stay this way forever?
As students advance in grade levels, we begin to see a shift in focus towards compliance to  norms and memorization of facts. Learning becomes more about achievement, and less about exploration and experiences. The youthful spirit of learning dwindles, if not ceases to exist. In his book, Lifelong Kindergarten, Mitchel Resnick argues for the necessity of what he refers to as the Four P's: peers, play, projects, and passion. He promotes a project-based style of learning, where students are engaged in "hard fun," learning with and from one another. Resnick asserts that the teacher's role is one of catalyst, consultant, and connector. He has successfully utilized this constructivist approach throughout his accomplished career at the Massachusetts Institute of Technology's (MIT) Media Lab, where he was instrumental in developing technologies such as LEGO Mindstorms and the Scratch coding platform for kids.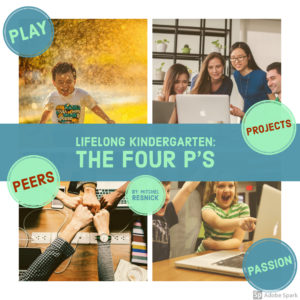 As a PK-12 Curriculum Specialist and Instructional Supervisor, I can attest that great teaching has similar attributes across grade levels. The most fruitful classrooms are immersive, collaborative, and reflective; they inspire creativity, autonomy, and risk taking. I urge educators to acknowledge that students of all ages are worthy of hands-on, minds-on learning experiences that are driven by their passions and interests. With thoughtful and responsive planning, we can integrate academic standards into meaningful projects where students actively explore real-world problems and acquire deep knowledge. It is our job to provide conditions where students can grow and flourish. We should look to the "Kinder Garden" as our model environment, and preserve the youthful spirit that cultivates lifelong learners.
Follow Mitchel Resnick on Twitter @mres and learn more about the MIT Media Lab's Lifelong Kindergarten Project at https://www.media.mit.edu/groups/lifelong-kindergarten/projects/.